Danny & Gerry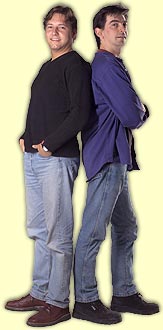 CDs and stuff
Hey Kids!
What super way is there to learn English at home or in the car?
Danny and Gerry have the answer. They have combined English learning with super songs and melodies and put them onto CDs with full-coloured textbooks. These original songs promise you hours of fun and enjoyment. You can sing along, dance or just sit back and listen.
Danny & Gerry have produced the follwing CDs so far (more to come - stay tuned!):
You can order any of our CDs through our online shopping service!